Thumbs up!
Members of the media and others give us their play-by-play, comments and reviews of Festival 2013.
---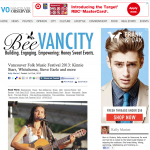 Vancouver Observer
Each year the festival brings thousands of music lovers together from all generations; it's not often that you get to see tykes on parent's shoulders, teenagers, and the elderly, all in one spot, dancing, singing, and grinning ear to ear. READ MORE
---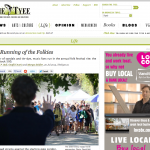 The Tyee
Each year Vancouver Folk Music Festival fans line up early in the morning to take part in an annual ritual, the run to the front of the main stage where blankets stake space for the rest of the day. It's a race colloquially called the "Birkenstock 500."
Competition is fierce.
Three intrepid Tyee reporters braved the onslaught to bring you into the rushing horde.
This photo essay captures the agony and ecstasy of these beautiful running hippies. A Tyee exclusive (inspired by Buzzfeed's "Running of the Interns"). READ MORE
---
Vancouver Sun
Steve Earle and the Dukes came on just as the sun was setting, when the air was hazy with humidity. In a white cowboy hat, a plaid shirt and his trademark chest-length beard, Earle started out with the mournful "Low Highway," the title track from his 2013 album. On a brief moment between songs, he attributed the birth of his 14th album to the quality of his band, which includes his wife Allison Moorer, Chris Masterson, Eleanor Whitmore, Kelley Looney and Will Rigby. READ MORE
---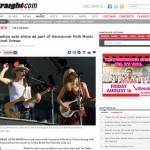 Bringing the night to a close was a highly entertaining performance from Australian ska act The Cat Empire. The contagious energy of the large band, including trumpet players, a D.J., keyboardist and two vocalists, quickly had the whole crowd on its feet. READ MORE HERE and HERE
---