Vancouver Folk Music Festival & The National Arts Centre present Cousin Harley
#RoadToCanadaDay #CanadaPerforms
We're excited to be working with the National Arts Centre / Centre national des Arts and Facebook Canada to present a live-stream of Cousin Harley in concert live from The Cultch as part of the #CanadaPerforms #RoadToCanadaDay Series!
Prepare for an at home rockabilly dance party by these masters of the genre.
WHEN: Tuesday, June 23rd, 2020 | 7:00 PST
WHERE: Tune in on Facebook OR Watch the live feed below.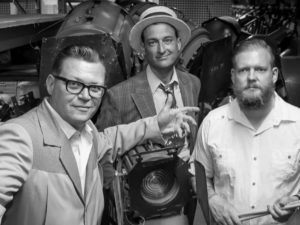 Cousin Harley, can explode like an active volcano, swing like the Basie band and holler to be heard in a lonesome back woods, all in a single show. This trio has been rocking  international audiences for 20 years.  Called the "Motorhead of Rockabilly" by a delirious fan after a particularly raucous show in Holland, there's nothing tentative about Cousin Harley's pedal to the metal approach to this stripped down form of rock and roll. Guitarist Paul Pigat is known to VFMF audiences in his Boxcar Campfire project.  Here's a chance to hear him with his fabulous trio pulling out all the stops.