by Doug Heselgrave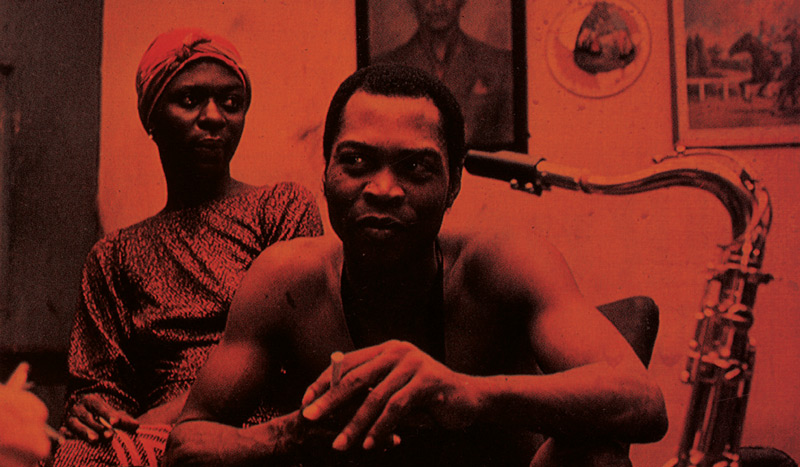 With a population of more than one hundred and seventy million people mostly crammed into cities along the coast, Nigeria has a reputation as one of the loudest, most congested and dangerous countries in the world. The billions of dollars in oil revenue that flood into the country annually should have guaranteed a modest standard of living for all, but it has only served to feed corruption, murder, and a succession of military dictatorships. Continuous coups, driven by ancient religious and tribal realities whose complexities continue to baffle outsiders have made any immediate dreams of stability seem unattainable. 
Freedom of the press has always been limited in Nigeria, but in a country where so many people live under constant pressure, there has to be a release, a way to talk about what's going on all around them. For many years, this release has come in the form of music, and in the same way the songs of Soweto or Kingston's Trenchtown gives a voice to oppressed people in South Africa and Jamaica, the sound of Afrobeat has been a lifeline for millions of common Nigerians seeking to express their opposition to the post-colonial realities they found themselves up against. Like these realities, the sound of Afrobeat is rarely sweet – it can be aggressive, angry, uncompromising, and even trance inducing. It is a form of music that is unique on the African continent, and is as distant from the comforting, uplifting sounds of groups like South Africa's Ladysmith Black Mambazo as The Clash's London Calling is from The Beach Boys' Endless Summer. 
With its stream of consciousness lyrics, repetitive grooves, and deep, insistent bottom end, Afrobeat is a style of music that has a transformative effect when experienced live. The opportunity to take in Seun Kuti and Egypt 80's set at the Folk Festival this year truly offers a once in a lifetime chance to experience a rarely experienced dimension of sound and culture. And, while audiences will surely be entertained, Afrobeat isn't strictly about dancing and having a good time. Its purpose is to enable transcendence by allowing listeners to enter 'the underground spiritual game', a term Fela Kuti, Seun's father and the main proponent of Afrobeat, used to describe the sanctuary his music created to help insulate people from the daily pressures of life in Nigeria.
From the outside, it's tempting to view Nigeria's history as little more than a series of conflicts defined by territorialism, tribal rivalries, fallout from the slave trade and greed over oil. Of course, the realities are far more complex than that. Compared to other countries in Africa, Nigeria was not colonized for very long. It came late to the British Empire when it was made a protectorate in 1901 at the request of powerful chiefs from Akwa Akpa, a port city that was once a centre of the slave trade. The relationship with Britain ended quickly and peacefully; when Nigeria expressed its desire for independence after World War II, as an interim step towards self-government, the autonomous federation of Nigeria was declared in 1954. Full independence followed in 1960, and the Federal Republic of Nigeria was formed in 1961.
Independence should have marked the beginning of a happy new chapter in Nigeria's history. But, if the sixties were a time of great turmoil in the western world where paradigms fell and everything from relationships between men and women and politics and the environment were all up for grabs and open for redefinition, it was nothing compared to what was going on in Africa. Discussions of identity were collective, rather than individual in nature, but unfortunately many of the opportunities promised by independence disappeared as human greed and corruption rapidly replaced idealism. 
It was in this environment of change and post-colonial floundering that Fela Kuti began his musical career. Born in 1938 to parents from the Yoruba tribe, Kuti's first success was as a singer in a popular Highlife band, The Cool Cats, who specialized in uplifting party tunes that reflected the hopes and dreams of the fledgling independent nation. It didn't take long for the country's nascent optimism to sour, and by the time Fela Kuti heard James Brown singing I Feel Good in the early sixties he had already envisioned another purpose for his music. As much as he loved the soul music and R and B that he heard on the radio in the mid-sixties, he couldn't relate to songs about true love and broken hearts when there were so many other pressing topics to write and sing about. With song titles like Zombie, Sorrow, Tears and Blood and Coffin For Head Of State, Kuti was never going to win any prizes for subtlety as he created a body of work as confrontational, provocative and lyrically inventive as anything Bob Dylan or Phil Ochs were singing in America at the time. In many ways it's surprising that Kuti's songs didn't catch on more widely in North America at the time, as their anti-authoritarian stance was right in step with the style and concerns of the day. 
If anything, it was the complexity of the Afrobeat sound that was most challenging for audiences, rather than the subject matter of the songs. Kuti's layered, insistent trance driven music was much more heady, uncompromising and difficult to dissemble for the western ear than, say, reggae. Kuti stressed that Afrobeat should be considered African classical music, as with western symphonies, large groups of musicians were necessary to create the sound. Although each musician's part was often very simple to play, as dozens of instruments including horns, guitars, shakers and keyboards joined in to build a groove layer by layer, the emerging sound was complex, sophisticated and completely intoxicating. Over the years, Fela Kuti earned a reputation as a critically acclaimed cult artist in the west, but despite constant touring, North American and European audiences never caught on to what he was doing in a big way. People weren't used to listening to artists that improvised on the same melody for thirty minutes at a time or who deconstructed grooves in every way possible before bringing a song to its conclusion. 
As much as Fela Kuti may have wanted international exposure, he was never willing to make any compromises in order to achieve it. He consistently refused to tone down the intense nature of his lyrics and the complexity of his musical arrangements. Throughout the seventies and early eighties, Kuti released dozens of albums and wrote a flurry of newspaper columns and political tracts in which he snubbed his nose not only at western culture and multinational corporations, but also at local oppression from the black ruling and business classes who exploited their own people in the same way as the colonial governments of the past. No one was free from Kuti's scathing rhetoric – he had no patience for established religions and was especially vicious in his attacks on Islam and Christianity, both of which he regularly castigated in his music. When government censors lowered the boom and restricted his ability to communicate his ideas both in writing and with his music, Kuti responded by starting his own political party, 'Movement of the People' that advocated African unity and culture within a loosely defined socialist framework. Of course, that didn't please the military dictatorship of the day, so no one was very surprised when he was thrown in jail on trumped up charges of currency smuggling in 1984. Amnesty International and other human rights groups denounced Kuti's imprisonment as politically motivated and with concentrated global pressure, he was released from jail in 1986. 
Things were never the same for Kuti after that. Though his commitment to change never wavered, he had seen so many governments fly by in a dizzying fashion, and he'd come to realize that all of his hard work and advocacy hadn't altered anything.
He understood that the only thing he could hope to control was his own actions, so as a symbolic gesture, he divorced his 27 wives after his release from prison – though he continued to live with them until his death – saying that marriage was responsible for a lot of jealousy and selfishness and was essentially another form of slavery. He continued to tour and live at 'the Compound,' the nightclub and experimental Pan African community that he had constructed years before, but signs of strain were beginning to show. Throughout the eighties and early nineties, the government continued to hound Kuti, and things reached a head when he and four of his band members were arrested for murder in 1993. Though the charges were dropped, Kuti's battle against the government and its corruption had taken its toll as he began to keep a very low profile. At the same time rumours about his poor health began to circulate.
Fela Kuti succumbed to AIDS in 1997, and tragically died before he could see his music gain the popularity that it has achieved today. The long open-ended jams that once alienated audiences have become popular with the explosion of the jam band movement and with the emergence of American bands like Antibalas and Vampire Weekend that play Afrobeat and Afrobeat inspired music. He probably would never have believed in a million years that his life story would be turned into a Broadway musical entitled Fela that has gone on to win three Tony awards, and he certainly never would have thought the prescient messages of songs like 'Black President' would have ever materialized as they did in 2008 with the election of Barack Obama. 
Fela Kuti played in Vancouver several times during his lifetime, but for those people who were too young or who simply missed out, the chance to hear Seun Kuti and Egypt '80 unfold their magic is something that shouldn't be passed up. Playing with some of the same musicians that were in his father's band, Seun honours Fela's sound, and one listen to new songs like IMF about the evils of modern capitalism should be enough to convince anyone that the youngest Kuti isn't pulling any punches either. Yet, for all of its political content, Afrobeat is primarily a spiritual music that encourages listeners to drop their everyday thoughts and enter a shamanic space where feelings and emotions, rather than words and ideas, are of primary importance. 
Afrobeat is music as deep, hypnotic and transformative as anything human beings have ever created, and to have the opportunity to experience it unfolding in front of us at the festival is a greater privilege than we perhaps realize. Music simply doesn't get any deeper than this. 
---
Doug Heselgrave is a Vancouver writer and editor. His writing regularly appears in Paste, Nodepression, restlessandreal.blogspot.com and many other print and online journals.