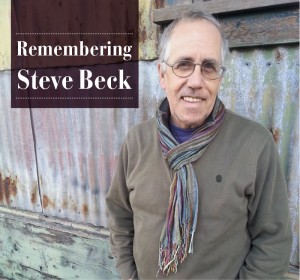 It is with great sadness that we announce our friend, longtime volunteer and Box Office Coordinator, Steve Beck has passed away. After a short, courageous battle with cancer Steve died peacefully at home on February 28, 2015. 
To Steve's family, friends, and fellow volunteers we offer our condolences.
Steve was a true friend to the festival. For more than twenty years he was unwaveringly generous with his time, his talents and his caring spirit. In his honour we are working on a fundraising effort for Steve's wife, Ilona Beck, to help her through the coming months and the challenges they'll bring.
It comes as a surprise to no one to say that Steve was passionate about music, an inspired musician and songwriter. A few years ago Steve recorded an album of original songs (Kissing Buddha's Daughter) that speak so truly to his outlook on life, and with Ilona's blessing are selling copies of Steve's album by donation.
To purchase a copy of Kissing Buddha's Daughter please contact the Vancouver Folk Music Festival at (604) 602-9798, use the donate button below, or drop by our office (Suite 100, 2425 Quebec Street, Vancouver).
When donating through PayPal please leave a note whether you'd like to pick up the album from the VFMF office, or have it shipped to you. If shipping please ensure your mailing address is listed and correct.
Suggested minimum donation is $20.