Sarah Lee Guthrie and Johnny Irion (CA)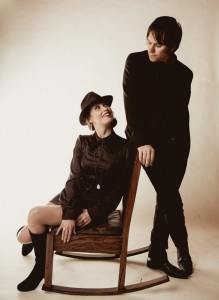 Entertainment Weekly says, "It is maybe almost too delightful."
Take Sarah Lee Guthrie & Johnny Irion, add a guitar c/o of Jeff Tweedy, add one cat pun and some sunshine. Shake well, pour it out and you have Chairman Meow, one of 11 tracks from the duo's new album, Wassaic Way (out August 6).
The song name-checks L.A. neighborhoods like Hancock Park, Miracle Mile, and Koreatown while paying ah-oooh tribute to the titular cat owner.
Folk-rock duo Guthrie and Irion's third studio album together was produced by Wilco's Jeff Tweedy and Patrick Sansone at the famed Loft in Chicago. Wassaic Way finds Guthrie and Irion pushing further beyond the folky sound they established on 2005's Exploration, their first studio LP. Their latest features the husband-and-wife's most ambitious songwriting, far-reaching arrangements and electrifying performances to date. Irion says, "there's soundscapes, there's a lushness to it, there's a popness, an edge," yet they don't abandon their folk roots.
Wassaic Way is also the latest entry in an ongoing creative relationship between the Guthrie family and Wilco. Sarah Lee is the daughter of Arlo Guthrie, and the granddaughter of the iconic folk singer Woody Guthrie, whose unfinished songs Wilco recorded with Billy Bragg on a pair of Mermaid Avenue albums in 1998 and 2000.
Everyone is eagerly anticipating this next musical step, the revealing of this new facet of their sound from this talented, creative couple when they perform live at the festival. We think we cannot miss hearing Chairman Meow!