Noura Mint Seymali (Mauritania)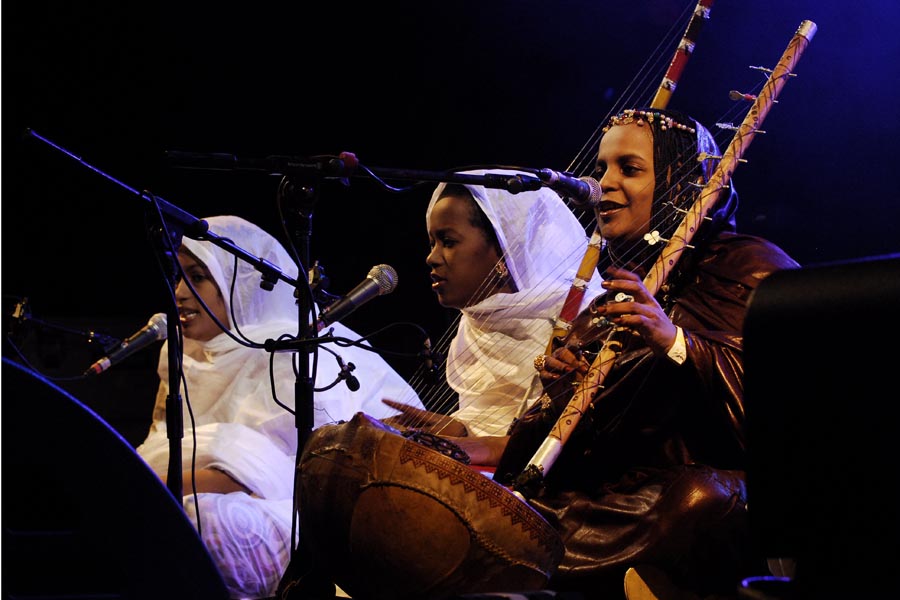 One of Mauritania's foremost musical emissaries, Noura Mint Seymali was reared in a culture of collision where sounds from across the Sahara, the Magreb, and West Africa coalesced in the dynamic language of the Moorish griot, the revered storytellers and stewards of North African cultural history.
She began her career at thirteen as a supporting vocalist to her legendary step-mother Dimi Mint Abba. Seymali combines a rare classical mastery and a griot's cultural authority with musical idioms that speak to emergent realities of youth culture in West Africa and beyond.
Her vocal inflections came straight from the Sahara: arabesques, quavers and ululations.
Carrying an electrified ardine (a guitar/harp style of instrument), and backed by rock- and funk-inflected guitar, bass and drums, Seymali's pentatonic melodies weave a seductive desert-blues fusion. Her husband, Jeiche Ould Chighaly—also from a griot family—plays his electric guitar with the staccato stutters of an African lute.
With Mauritania's unique cultural and geographic identity as a desert nation physically and socially at the crossroads between North and Sub-Saharan Africa, Noura Mint Seymali provides a vital and vibrant musical staging post on the road from the Medinas of Fez and Algiers to the dance clubs of Bamako and Dakar.
(with thanks to the Calgary Folk Festival / KC)