Banda Kakana (Mozambique)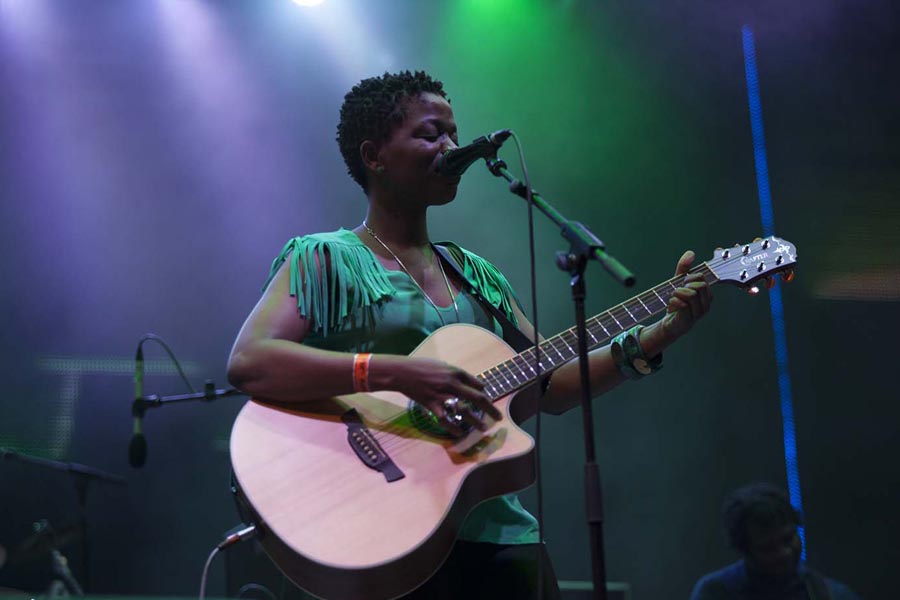 Lead singer Yolanda Chicane, together with Azarias Arone, founded the Maputo-based Banda Kakana. The group has become a leading representative of a new generation of Mozambican bands, following in the celebrated footsteps of groups like Ghorwane, Eyuphuro and Orquestra Marrabenta Star of Mozambique. It is Yolanda's rich, powerhouse vocals that have been the driving force in the growing success of the group in Mozambique, where they've won several major awards, and beyond.
Kakana's sound is based in marrabenta, popular Mozambican dance music with roots in traditional rhythms and Portuguese folk music (Mozambique gained independence from colonial Portugal in 1975). They fuse this sparkling music with other Mozambican forms and the melodies and rhythms of Africa and the world: Afro-pop, Afro-jazz and rock. They sing in a variety of languages, including Changana, Emacua, Chope, Portuguese and English.
In 2013 Kakana released their International debut album, Serenata.
Yolanda says. "We aim to show the world the beauty that Mozambique can share through music, and let people know that despite the isolation that we face in the region, mostly because of the language, we are now here and ready to spread our messages of hope, peace and love."
"Serenata is a reflection of women's empowerment in Mozambique; it explores the universe of young and courageous women. We talk about how lonely immigration can be for those who leave behind family in exchange for the promise of a good life, as we do in the song "Mufolhe".
"Suhura" describes the struggle against the rites of initiation that women are still facing in Mozambique." (in Macua culture in northern Mozambique)."Xiluva" (flower) is about the harmony that encourages people to give each other a flower of love."
Already one of the most acclaimed bands in Mozambique, selling out every show they play in the country, Kakana is poised to take on the world. Welcome!